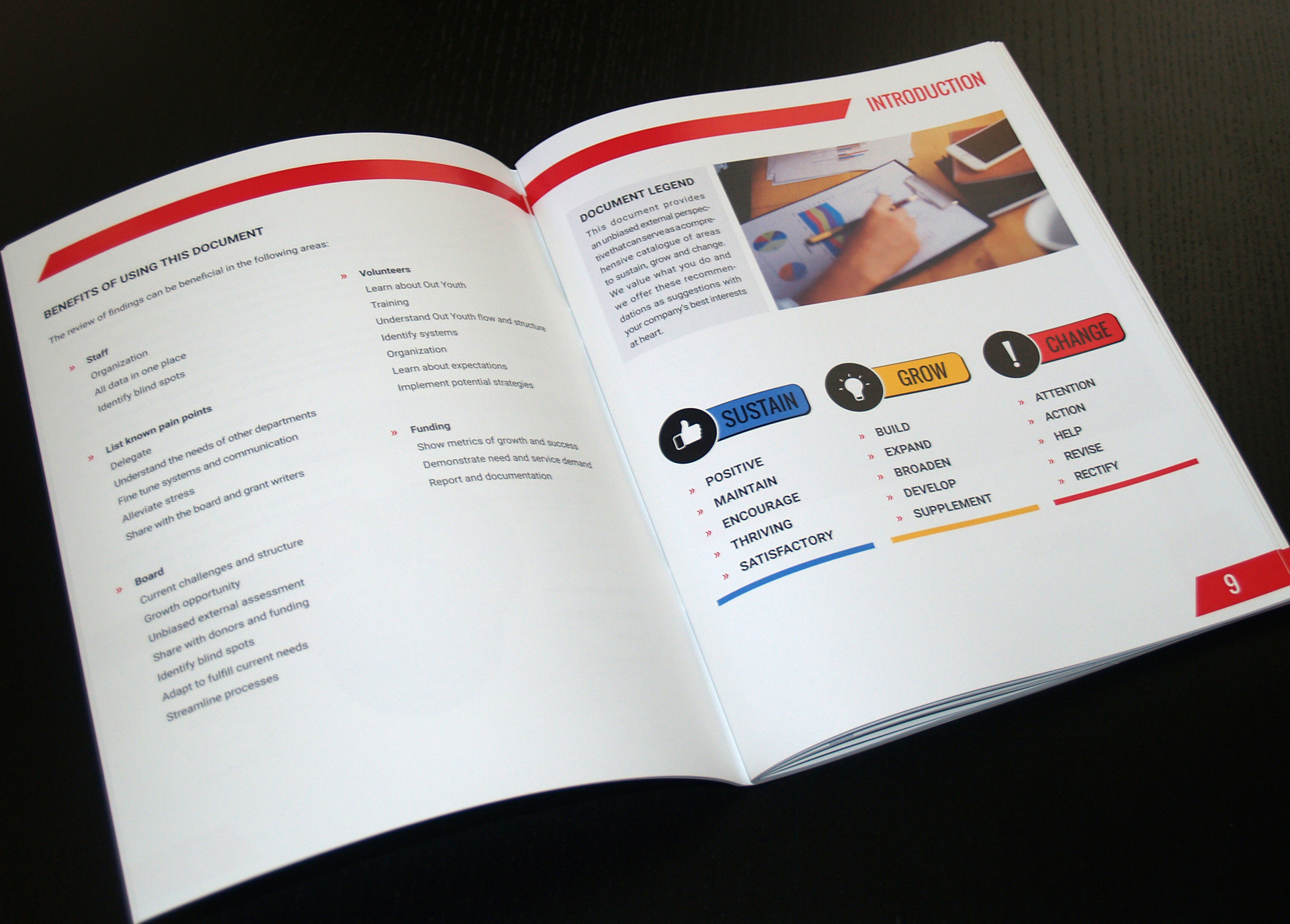 ABOUT OUT YOUTH
Out Youth provides counseling services to LGBTQ+ youth from ages 13 to 23 to support their development.
Out Youth has a challenging time managing a base of over 1000 volunteers.

I helped develop a volunteer strategy to implement and manage this issue while leading a group of four people. 
My role was project lead, research development, human-centered design, user experience, data visualization and graphic design.

THE CHALLENGE
Out Youth needs a way to organize and onboard their volunteer pool. This will help understaffed areas of the organization.
Main constraints were:
•
Privacy
; due to the sensitive nature of working with individuals under 18
•
Low cost
solutions to fit within the nonprofit's modest budget
• Sustaining their
youth centered
culture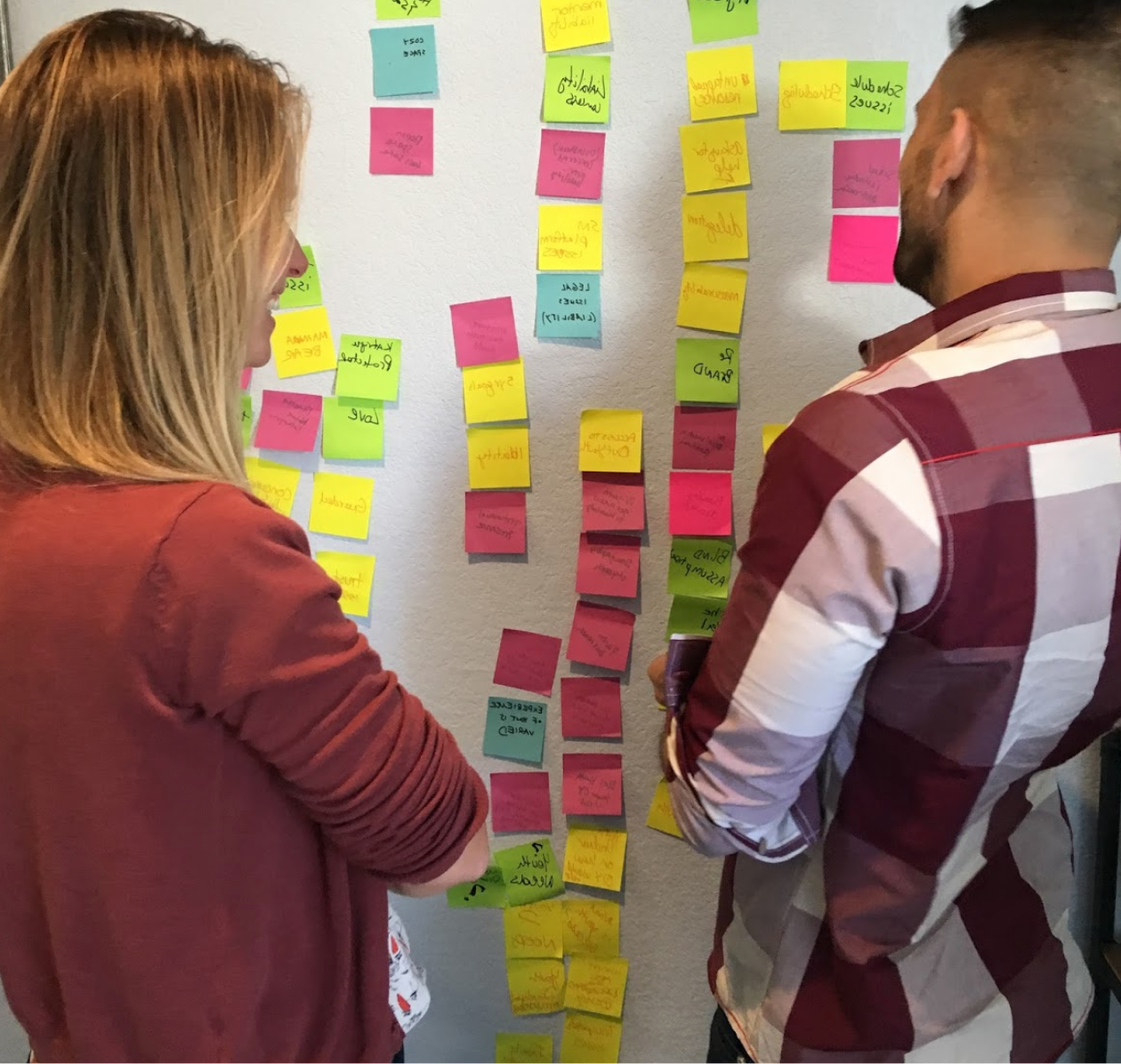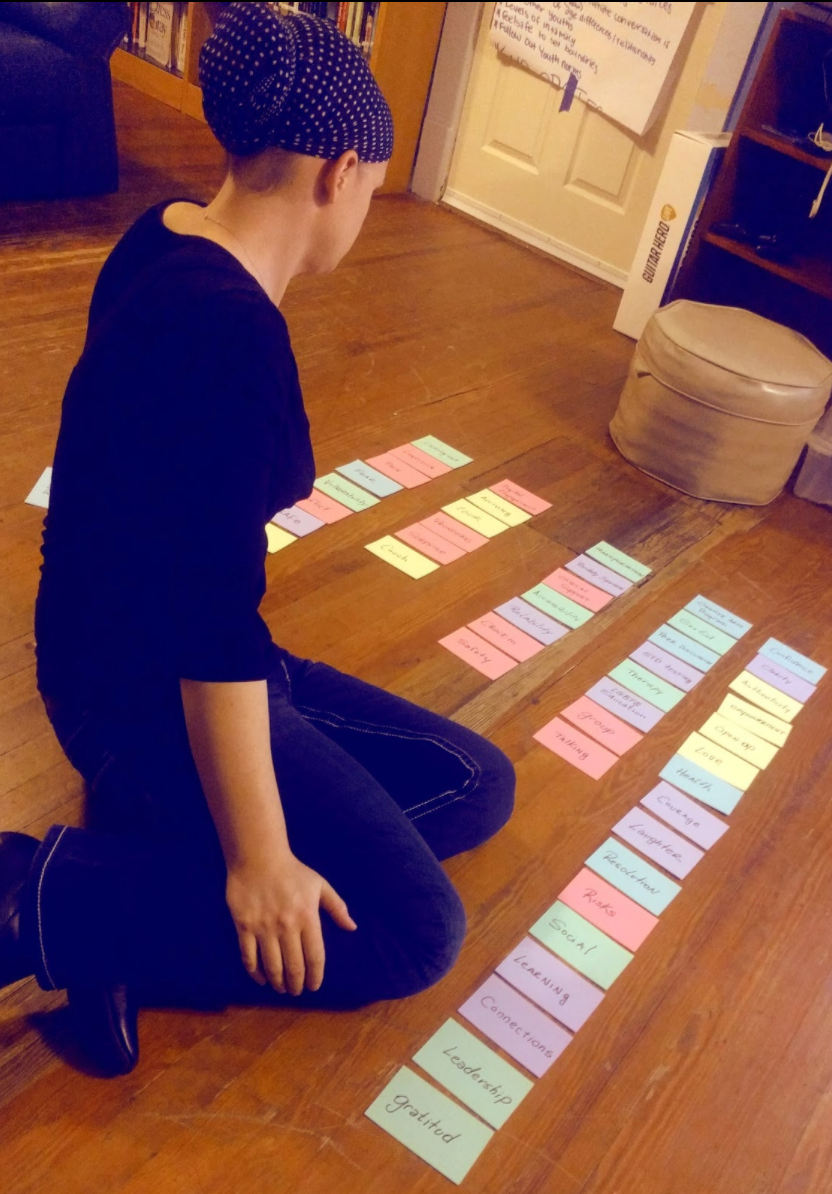 "From a human-centered perspective, we sought to understand the organization and provide an unbiased point of view of what we learned"
RESEARCH
We applied Human-Centered Design practices to uncover the challenges that the Out Youth administration faces.
We focused on staff, volunteers, youth, clinical care and alumni.
A common aspect of human-centered design is that one must cast a wide net during the discovery stage, and in doing so, we learned about the many intricacies of our subject.  All of these discoveries became part of our documentation printed book deliverable.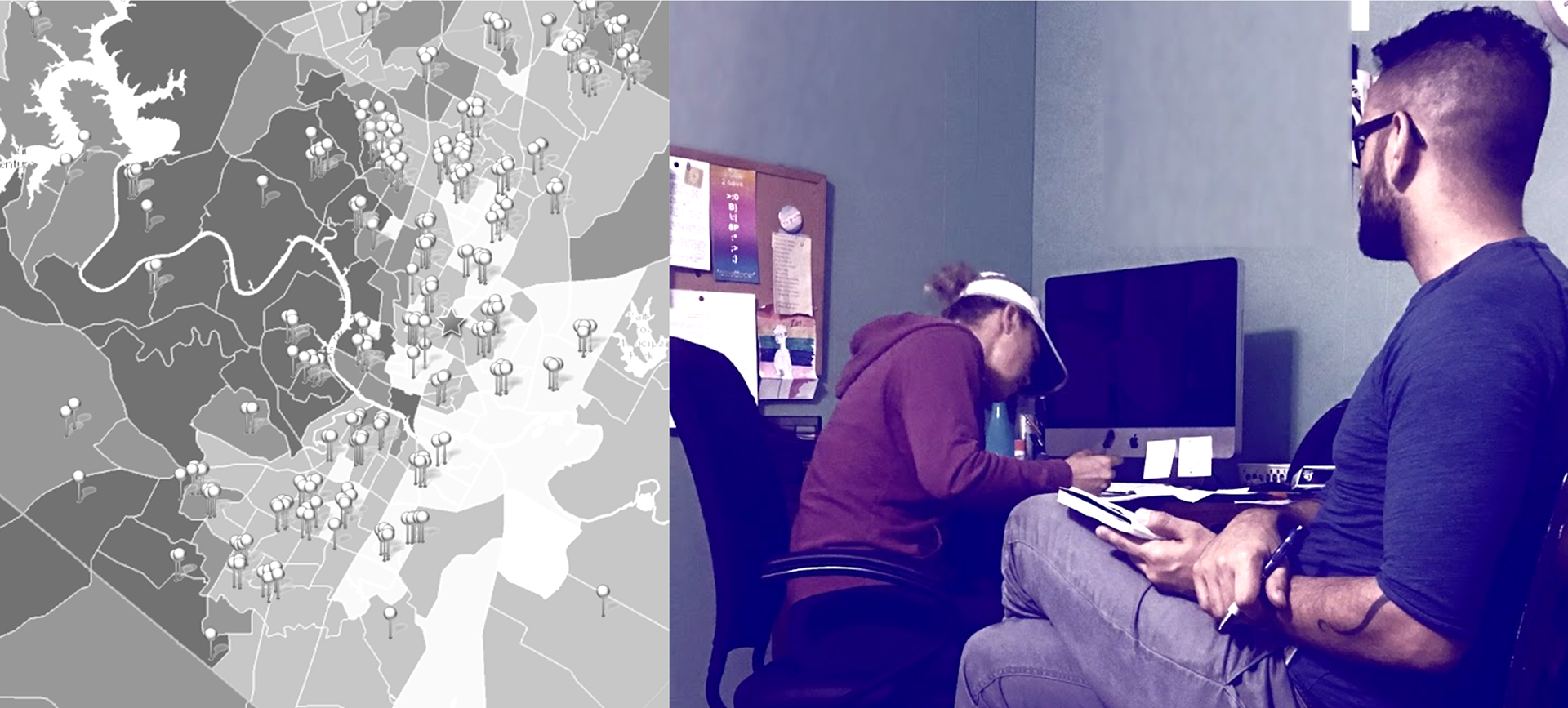 DATA VISUALIZATION
Turning the data collected into graphic charts helped us find key identifiers from social behaviors, Out Youth demand, and youth accessibility challenges.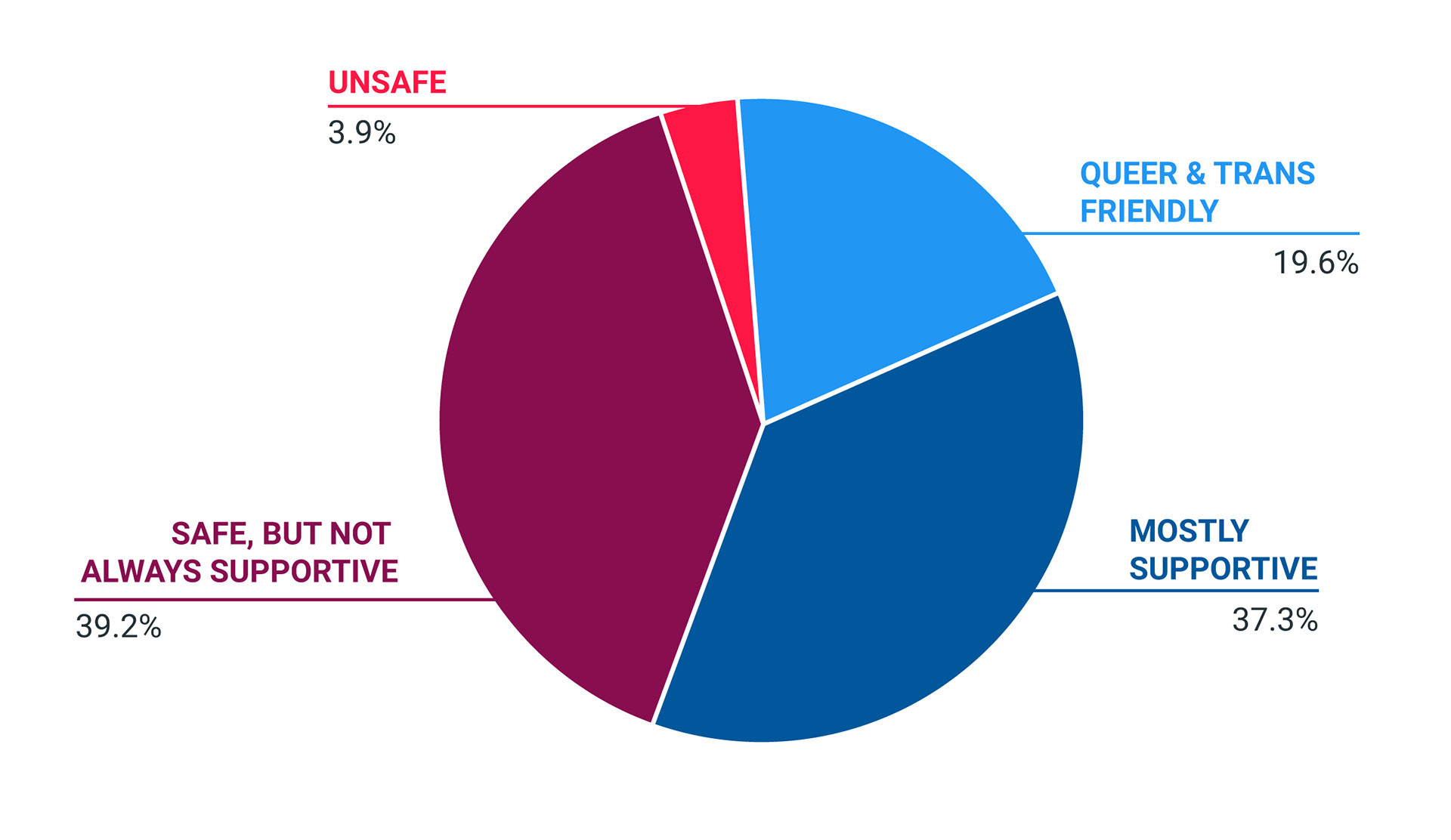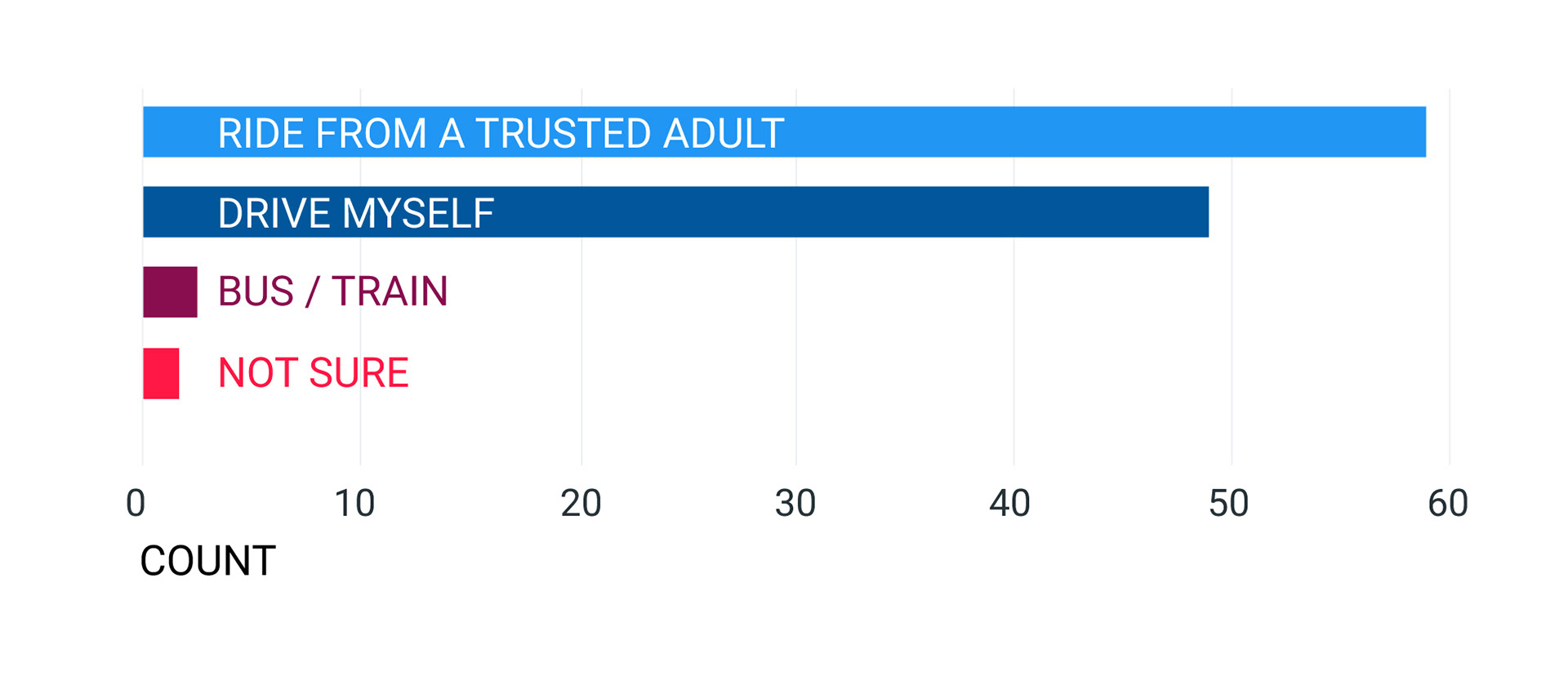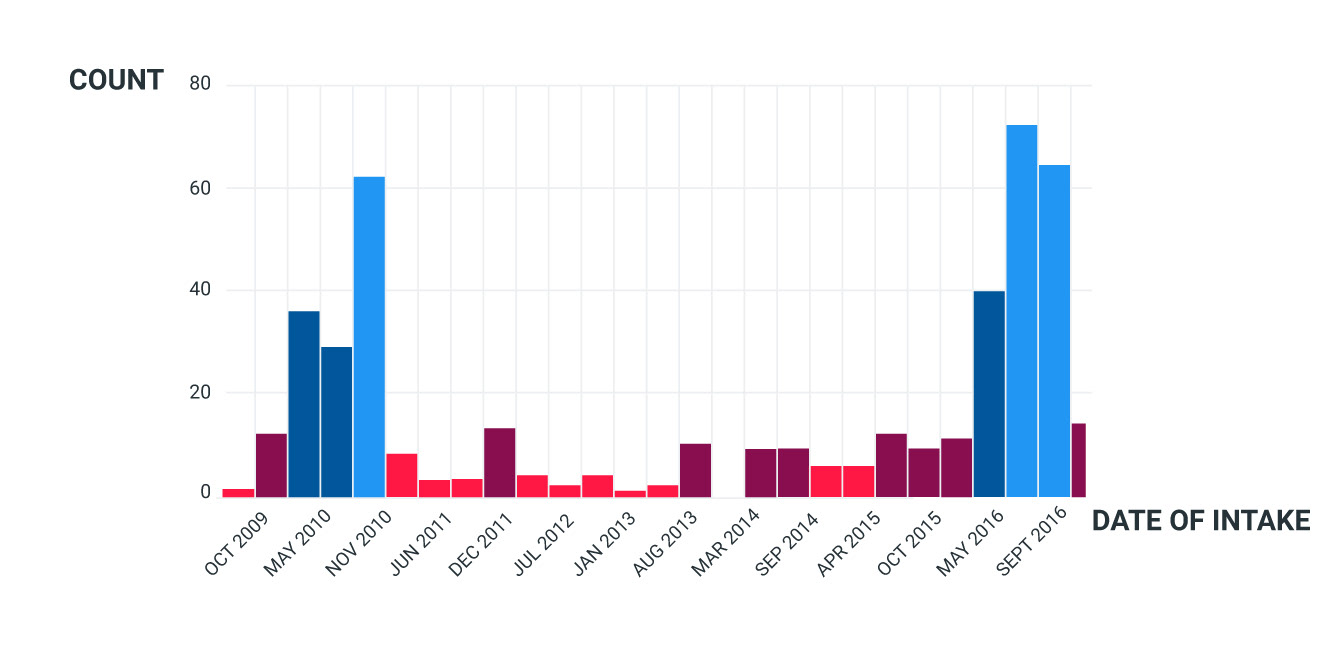 PRIORITIZATION GRID
In order to narrow the scope and how to best support Out Youth with human-centered design practices, we mapped the roadblocks we found into a grid.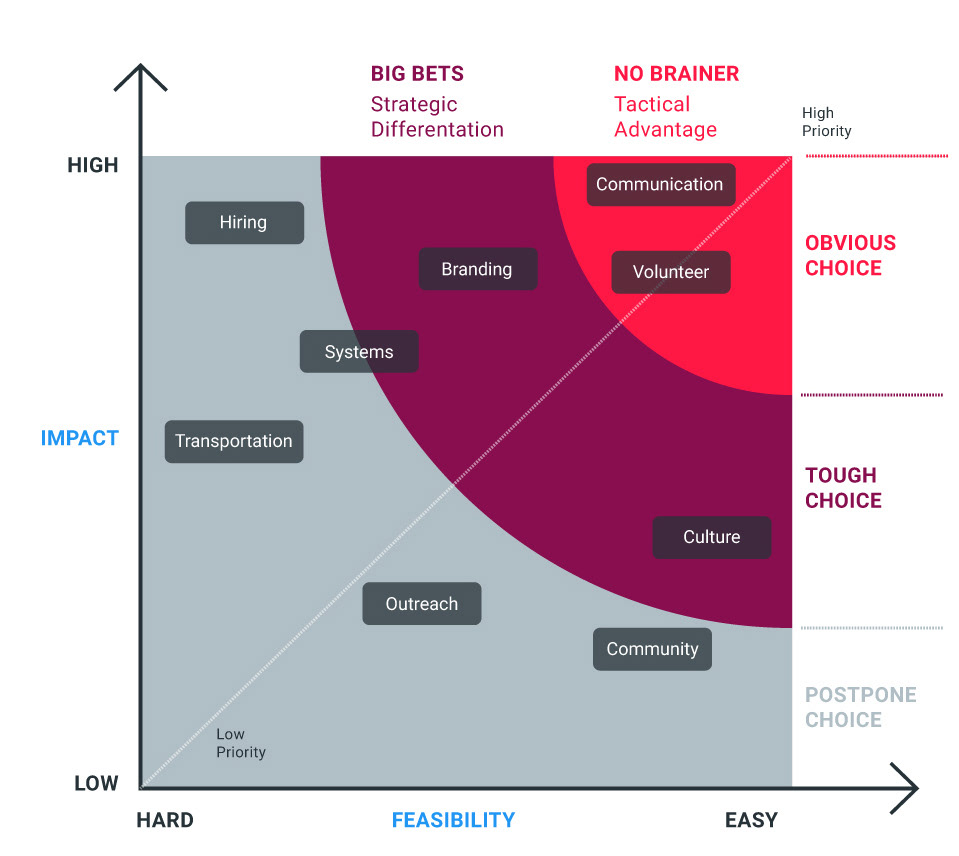 FINDINGS
After about 4 month of research, we identified that although the center of this organization was the youth, "Volunteer Needs" is where our team had the potential to create the most impact for the organization.
In other words, at this point in time, Out Youth had a limited way to intake volunteers appropriately, with over 1000+ willing people that had signed up, there was not a way to process them, onboard them, identify their different levels of commitment or efficiently deploy them into supportive positions.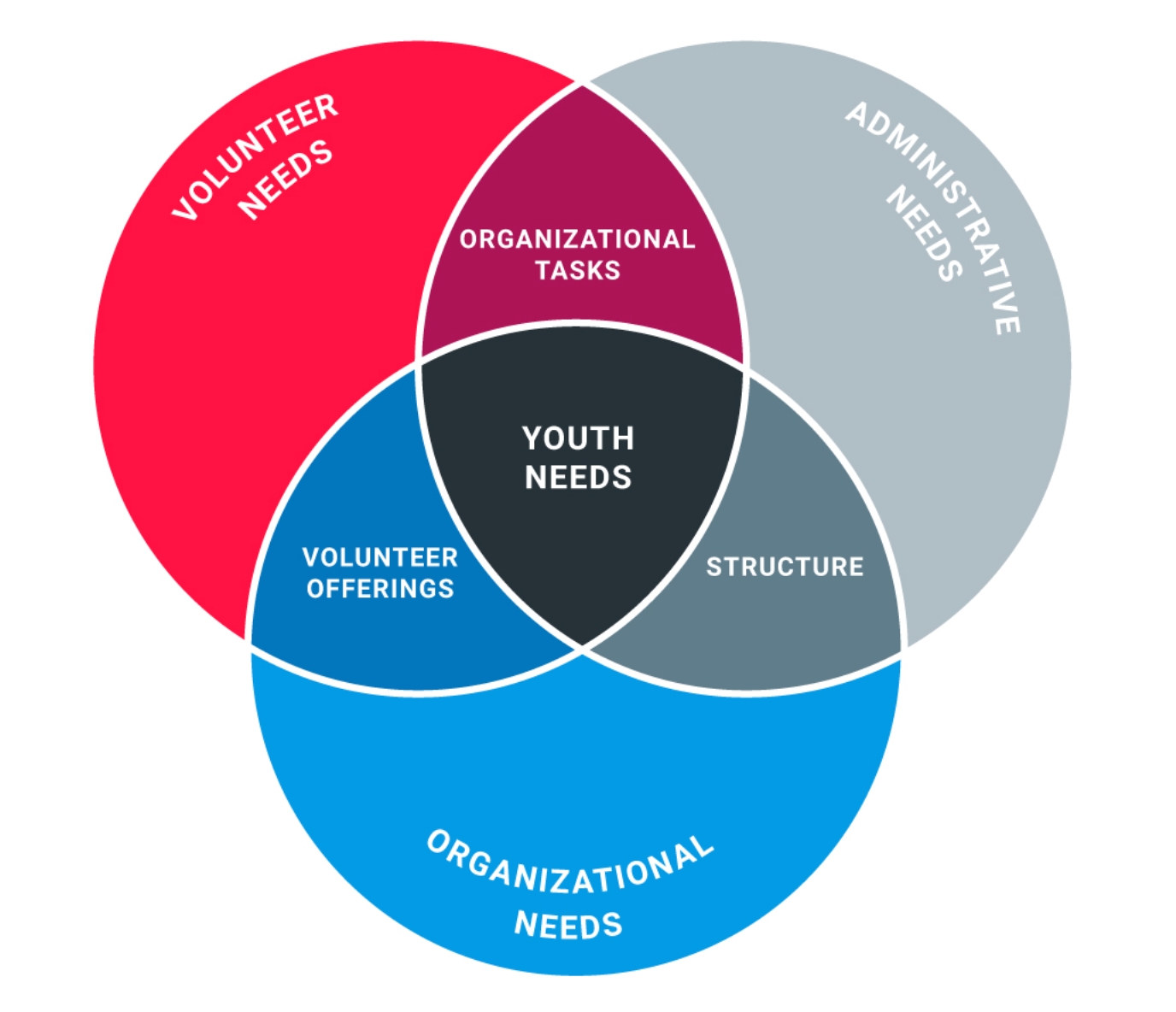 Utilizing geo-data mapping of resources, we categorized youth members based on whether they had support of their environment or not. These kids being underage depended greatly on friends and family support to access Out Youth's resources and a subset of them required a more active engagement initiative from the organization.
"Puberty is a challenging time for anyone, but imagine growing up in an environment without any role models or support groups."
Kids that were often challenged at school, or home-schooled and isolated, with families that didn't understand what they were going through blossom from confused teens to trustful, authentic successful adults.
MAP OF THE ORGANIZATION
Mapping the organizational structure showed us the interconnections between different touchpoints. Most importantly the structure map highlighted the

volunteers silo

from the rest of the organization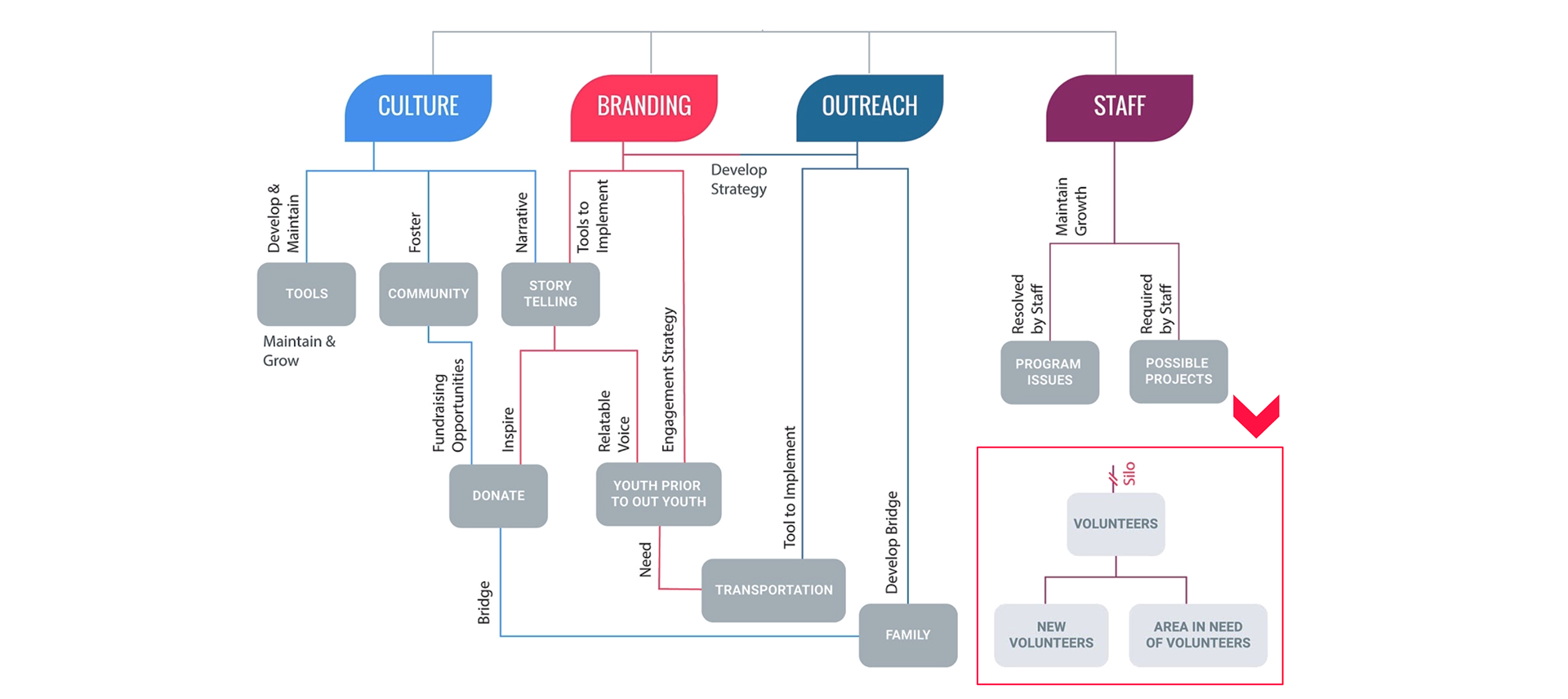 SOLUTION: VOLUNTEER STRATEGY
In order to help them utilize more than 1000 volunteers in their database, we helped Out Youth upgrade their intake form, adding the ability to categorize volunteer focus interests, skill level, and commitment to the organization based on how much time each individual wanted to donate.
We also helped them determine a series of volunteer qualification that would define what we called 'Star Volunteers', individuals with many skills, and high commitment to Out Youth.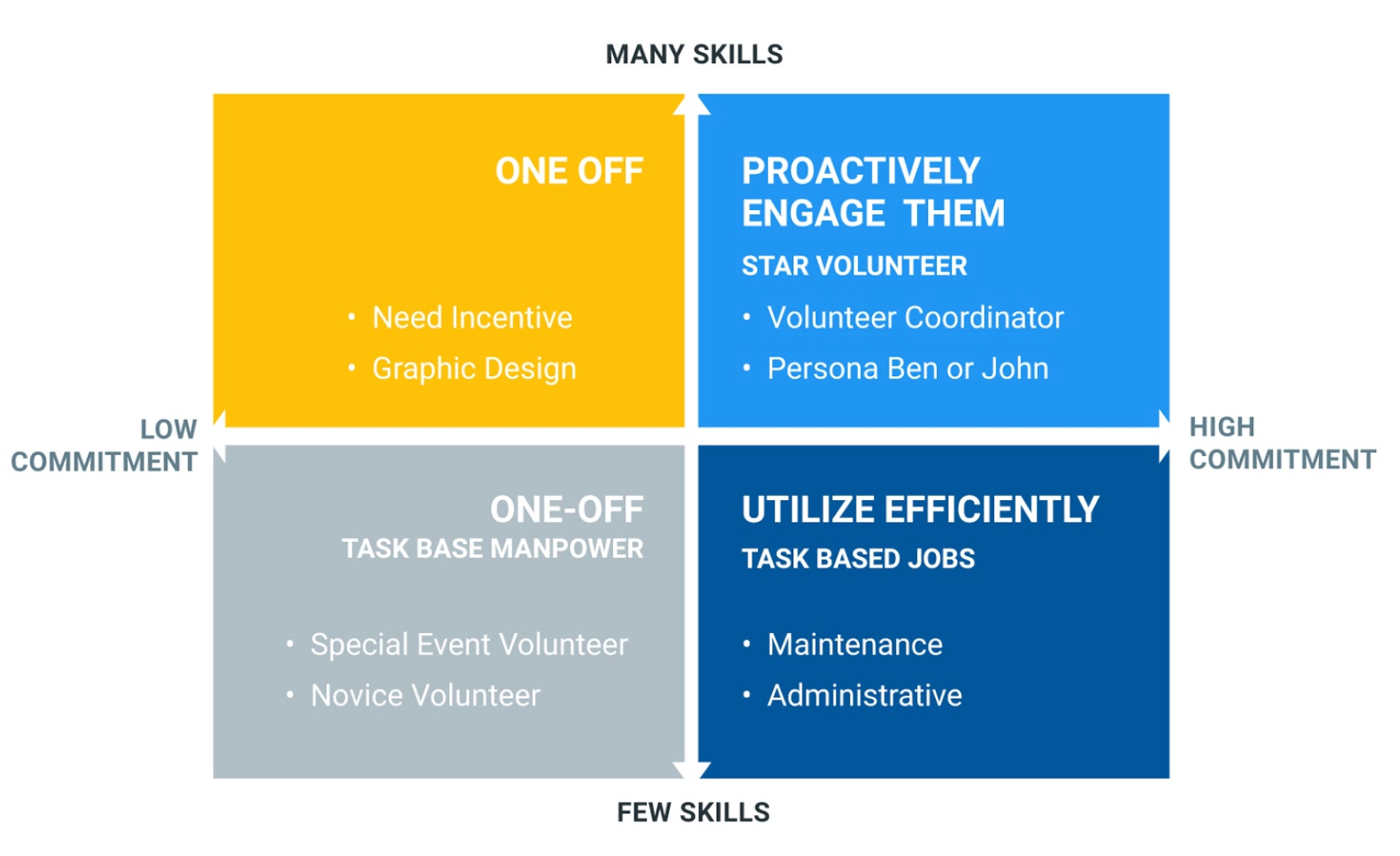 3-STAGE QUARTERLY ONBOARDING WORKSHOP DEVELOPMENT
We later developed a 3-stage system, that would allow Out Youth to train a group of volunteers quarterly. A Star Volunteer would then be selected form that group, whom in turn would be in charge of training a new group the following quarter; thus creating a self-sustaining system loop to alleviate the staff's workload.

Finally, we laid out the foundation for the workshop curriculum focused on the four areas of need defined earlier in the project, so that new volunteers could choose a path and be onboarded on how to best help the organization.

DOCUMENTATION AND INFORMATION DESIGN DELIVERABLES
After 6 months of work we delivered a

 printed book

, with all of our findings, which also included delineated strategies to overcome some of their challenges.
We focused on clear information, documentation, and highlighted the most feasible short and long term solutions from lower to higher impact.
The review is published online
serving as a transparent tool that showcases an unbiased view of their organization while also explains their needs and challenges. This tool can help Out Youth receive funding through grants and other internal processes.

HEURISTIC EVALUATION
The book also contained a throughout evaluation of Out Youth website categorized using a modified version of Jakob Nielsen's 10 heuristics of design. In this way we could objectively identify elements of the website, such as voice, target audience, accessibility and navigation that did not align with Out Youth's goals. The findings were added as a separate section with severity rating and potential solutions.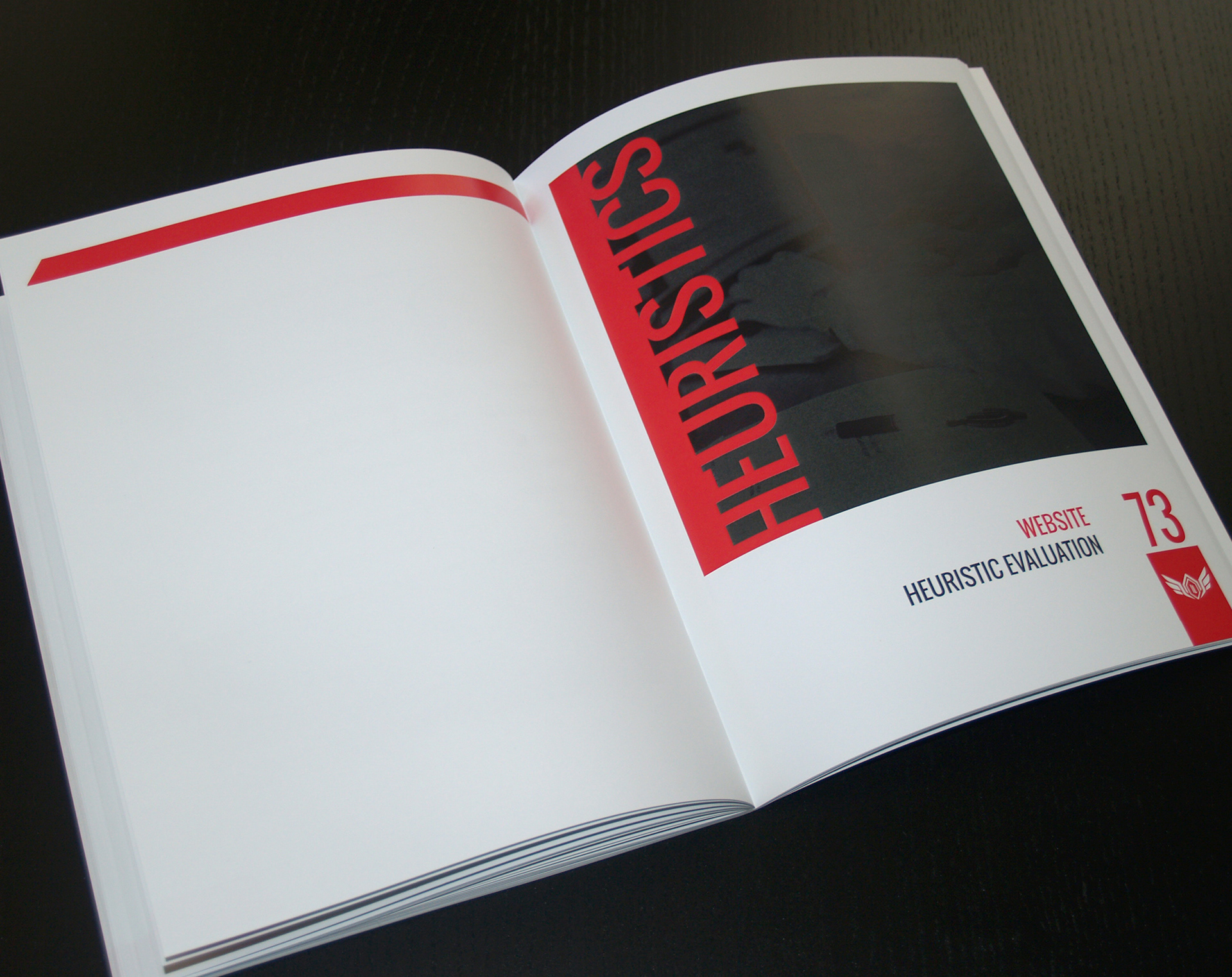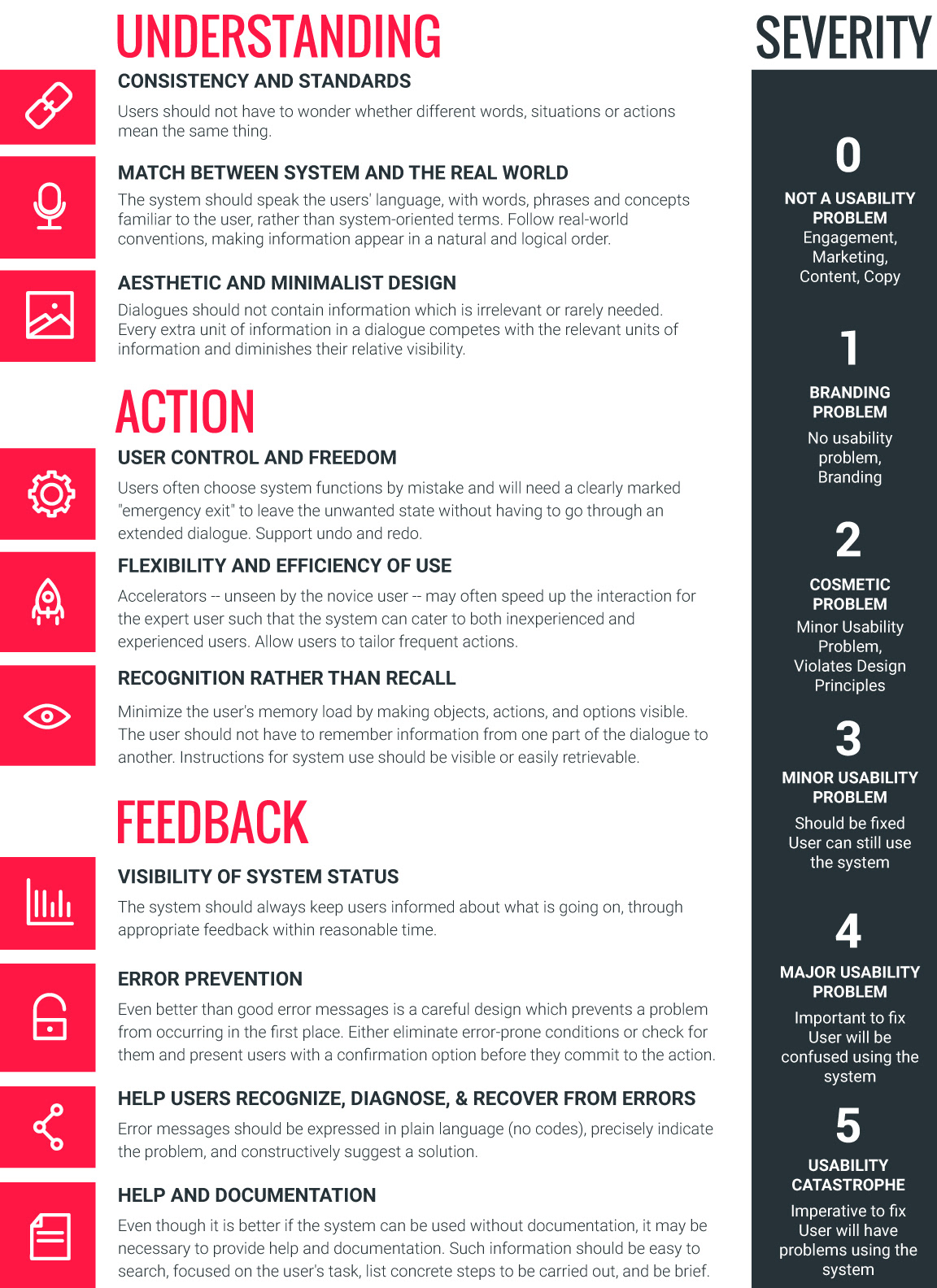 REVIEW OF FINDINGS BOOK PHOTOS